The Meeting Place for the over Fifty Fives in Sawbridgeworth.
Art, Craft, Bingo, Whist, Outings, Keep Fit, Holidays, Lunches, Refreshment, Shopping Trips, Quizzes and much more... You're welcome to come and join us!We are open 9.30am to 4.30pm Monday to Friday and 10am - 12 Noon Saturday.
Tesco and Sainsbury's Shopping Bus
Tesco Bus/Range/Home Bargains - Wednesday 1st May Sainsbury Bus - Wednesday 21st May £3.50 per person - please book in the office.
If you'd like to use one (or both!) of the shopping buses, please book your place in the office with either Kerry or Deb. (You can also book by phoning (01279) 721221). You will be dropped off at home with your shopping around mid-morning. Please be ready for pick up at 9.00am.
Beth Chatto Gardens
Tuesday 4th June 2019 CHANGE OF DATE
Join us for a trip to the beautiful Beth Chatto Gardens. Meet at The Hailey Centre for a 10am departure, returning about 5pm. Cost is only £23 – which includes entrance fee to the Gardens. There is a Tea Room selling seasonal lunches and home-made scones and cakes to enjoy. If you'd like to join us please call in to the office to book your place. Please note the change of date to the 4th June.
#HaileyCentre #Sawbridgeworth
The Hailey Fun Quiz
Tuesday 14th May 2019 / 2.15-4.00pm / Cost £4.00 to include light refreshments.
Come along and show off your retention for trivia at our ever popular monthly quiz. You are guaranteed at the very least to have a great deal of fun whilst being entertained by our Quizmaster double act, Eddie & Peter. If that is not enough to tempt you, then I am sure that a cup of tea and biscuit with the chance to win cash prizes will! Come with a ready made team or join one of our existing ones – all welcome! (Payment at time of booking please.)
Our Famous Bacon Rolls
Join us on the first Saturday of every month for our now famous Bacon Rolls. No need to book, just drop in between 9.30am and 12 Noon -Saturday 1st June 2019!
Receive a warm welcome from our famous Queen of bacon rolls, Pat, along with our team of merry volunteers who are waiting to say hello & provide you with delicious locally sourced bacon rolls and hot drinks. Come along and meet new and old friends at the warm and comfortable Hailey Centre.
#ShopLocal #LoveSawbridgeworth #Sawbridgeworth #HaileyCentre
Chair Based Fitness Fun Hour
Every Tuesday 10.15-11.15. / Cost: £3.00 / Booking Essential
Come along and join us for an hour of chair based fitness and fun with the lovely Elsie. Make new friends, enjoys some laughs whilst improving your all round fitness and mobility levels.
Exercises designed to suit all abilities.
Art Club
Every Wednesday / 2.15-4.15pm / Cost: £4.00
Are you an established hobby artist or just looking to explore how to get started in drawing or painting ?
We have a very friendly bunch attending the club who will offer a very warm welcome and support to any new joiners.
Lunch Club
Every Monday, Wednesday and Friday - 12.30pm / Cost: £5.50 / Booking Essential
Enjoy a delicious home cooked nutritional two course meal, made on the premises from scratch by our team every Monday, Wednesday and Friday lunchtime from 12.30pm. Our fabulous volunteers will look after you – so you'll soon feel that you are out for lunch with a great group of friends! £5.50 including tea or coffee. It's easy to book – just pop in to the office and speak to Kerry or Deb.
(Subsidised transport can be provided if necessary – just ask to find out more.)
CHARITY RACE NIGHT
DATE FOR YOUR DIARY! Friday 30th August 2019
Join us on Friday 30th August for our annual Charity Race Night. Tickets will include entrance fee and Fish & Chip Supper. Please feel free to bring your own alcoholic drinks.
Whist Club
Every Thursday / 1.45-4.00pm /
Come along to our friendly Club where new members are made very welcome, even if they have never played before. Our existing members will be only too happy to help you to get started until you pick up the basics of the game. As we have around 20 players attending each Whist Drive, you can either come along on your own or, if you prefer, bring some friends with you.
Liz's Cafe
Every Thursday - 11.30 - 1.00pm / Cost: from £3.50
Join us at Liz's Cafe where we will be serving Homemade Soup and bread roll, or a filling jacket potato with topping, both with a hot drink – prices from £3.50. Let us know in the office if you'll be joining us – booking not essential but advisable. (Last food order 12.30pm)
If you shop online you can help us raise much needed money for our wonderful Hailey Centre. We are joined up to the fabulous www.TheGivingMachine.co.uk (another local charity) who help raise funds for schools and charities just by people shopping online via their website. It's easy to use and doesn't cost you a penny! Click here for the Hailey Centre's GivingMachine page and to find out more
Yoga (Beginners)
Every Tuesday 11.30-12.30 and 12.30-1.30pm/Cost: £5.00 per session / Booking Essential
OVER 55's BEGINNERS YOGA
Come along and experience the fringe.yoga method with the lovely Elsie, who'll help and guide you. Yoga is an ancient form of exercise that focuses on strength, flexibility, balance and breathing to boost physical and mental wellbeing, with some research showing that it is popular with people with arthritis for its gentle way of promoting flexibility and strength. Due to the popularity of the class, we have added an additional session – 12.30 to 1.30pm.
HERTSWISE
Wednesday Mornings - 9.30am to 11.30am
We are delighted to welcome back to The Hailey Centre the fab team at Hertswise, a service designed with people living with dementia, low level memory loss or mild cognitive impairment, and their friends, family and carers. It's provided by a partnership of community and voluntary groups to ensure they can provide the kind of support that you need.
For further information about #Hertswise click on the following link#Hertswise website
Volunteers Needed
Can you help us to provide a valuable service to our community?
The Hailey Centre needs your help! If you can spare an hour or two on Thursdays to help us out at lunchtime (between 12 and 2pm) please get in touch. We serve lunch to 20-30 people on average and as you can imagine that's a lot of clearing and washing up! If you do want to help us to provide this valuable service to our lovely over-55's, please get in touch with Sue or Deb (Hailey Centre telephone number: 01279 721221). We understand that you all have lots to do too, so a once a month commitment (at your convenience) would still be much appreciated!
Silver & Active Keep Fit
Every Monday 2.15-3.15 / Cost: £4.00 per session / Booking Essential
NEW CLASSES Exercise can energize your mood, relieve stress, help you manage symptoms of illness and pain, and improve your overall sense of well-being. In fact, exercise is the key to staying strong, energetic, and healthy as you get older. Join our in-house fitness instructor who will guide you through an hour of gentle exercise to help you maintain and improve your fitness levels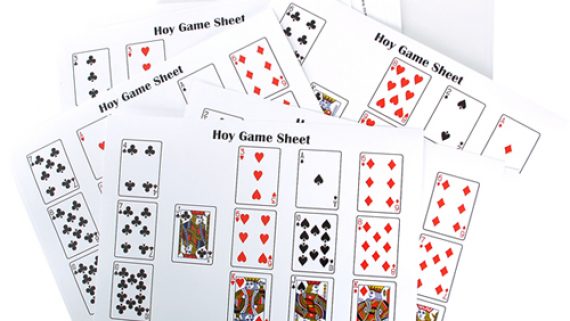 HOY! Bingo
Tuesday 4th June / 2.15pm-4.00pm / Cash Prizes
Join us for a game of Hoy! Bingo on Tuesday 2nd April. Not only can you win cash AND prizes, you can meet up with old friends (and make new ones too!) Don't be shy, come along and give us a try – £5 for 5 games! (Includes light refreshments). #Bingo #HaileyCentre #community #fun #Sawbridgeworth
NEW CLASSES! FRINGE YOGA FLOW
Thursday Morning - 9-10am and 10.15-11.15am
Delighted to share that Elsie will be running 2 classes on a Thursday morning. All ages welcome!
#Yoga #HaileyCentre #community #keepfit
BREATHE & CONTROL PILATES
Tuesday - 7-8pm and 8-9pm
Breathe & Control Pilates with the fabulous Rebecca. Mixed Ability Classes on a Tuesday evening. For more information, please contact Rebecca directly on bcpilates18@googlemail.om or 07853 894544
Sawbridgeworth May Fayre
Sunday 5th May 2019
We'll be open on Sunday 5th May selling bacon rolls from 12 noon until 2pm, THEN we'll be selling delicious cream teas from 2pm-4pm. Please come along and support us! (Registered Charity 1030820)
#HaileyCentre #Sawbridgeworth #Charity #MayFayre
Upcoming Events